WBUR – Take that, COVID-19! (An exclaim made with cautious optimism.) As of this writing, live music is back in full swing this summer. (If you feel safer with a mask, please mask up.) And at least two of the major festivals, the Boston Symphony Orchestra at Tanglewood in the Berkshires and the Saratoga Performing Arts Center in Saratoga Springs, New York, are essentially outdoors in large open-air theaters (or, even more open-air, on the lawn behind the seats). Please stay safe and enjoy the enormous variety of summer programs.
MASSACHUSETTS
Lenox | July 8-Aug. 28
Our country's pre-eminent summer music festival is a two-hour drive from Boston (traffic willing), and this summer's program is chock full of goodies. Though I have to admit, I'm less excited about Tanglewood's opening night (July 8) than ensuing events. Leonard Bernstein was an important figure at Tanglewood, and while I love his Broadway music, I'm not a huge admirer of his serious concert music, and opening night will feature two of his serious pieces: his very last orchestral piece, "Opening Prayer," in Hebrew, with baritone Jack Canfield, and his early "The Age of Anxiety" Symphony (premiered by the BSO with Bernstein himself at the keyboard — pianist Jean-Yves Thibaudet will be the guest pianist here). The concert will end with what many people (including me) consider the most exciting orchestral work of the 20th century, Stravinsky's "The Rite of Spring." The one time I heard BSO music director Andris Nelsons conduct it, he did something I thought was impossible — he made it sound dull. I hope that's no longer the case.
The Tanglewood concerts I'm really excited about begin soon afterward. The very next program is all-American, with both popular and unfamiliar works by Samuel Barber, George Gershwin, Duke Ellington, and the young Washington, D.C.-based composer Carlos Simon. I'm not familiar with the soloists — soprano Nicole Cabell and pianist Aaron Diehl—but it all sounds very lively (July 9). And the very next concert (July 10) includes a new BSO commission, a trumpet concerto called "night-sky-blue," by one of my favorite young composers, Helen Grime, with Swedish virtuoso trumpeter Håkan Hardenberger. This will be book-ended by Nelsons conducting Rachmaninoff, the gorgeous "Vocalise" and his lesser-known, lesser-regarded Third Symphony.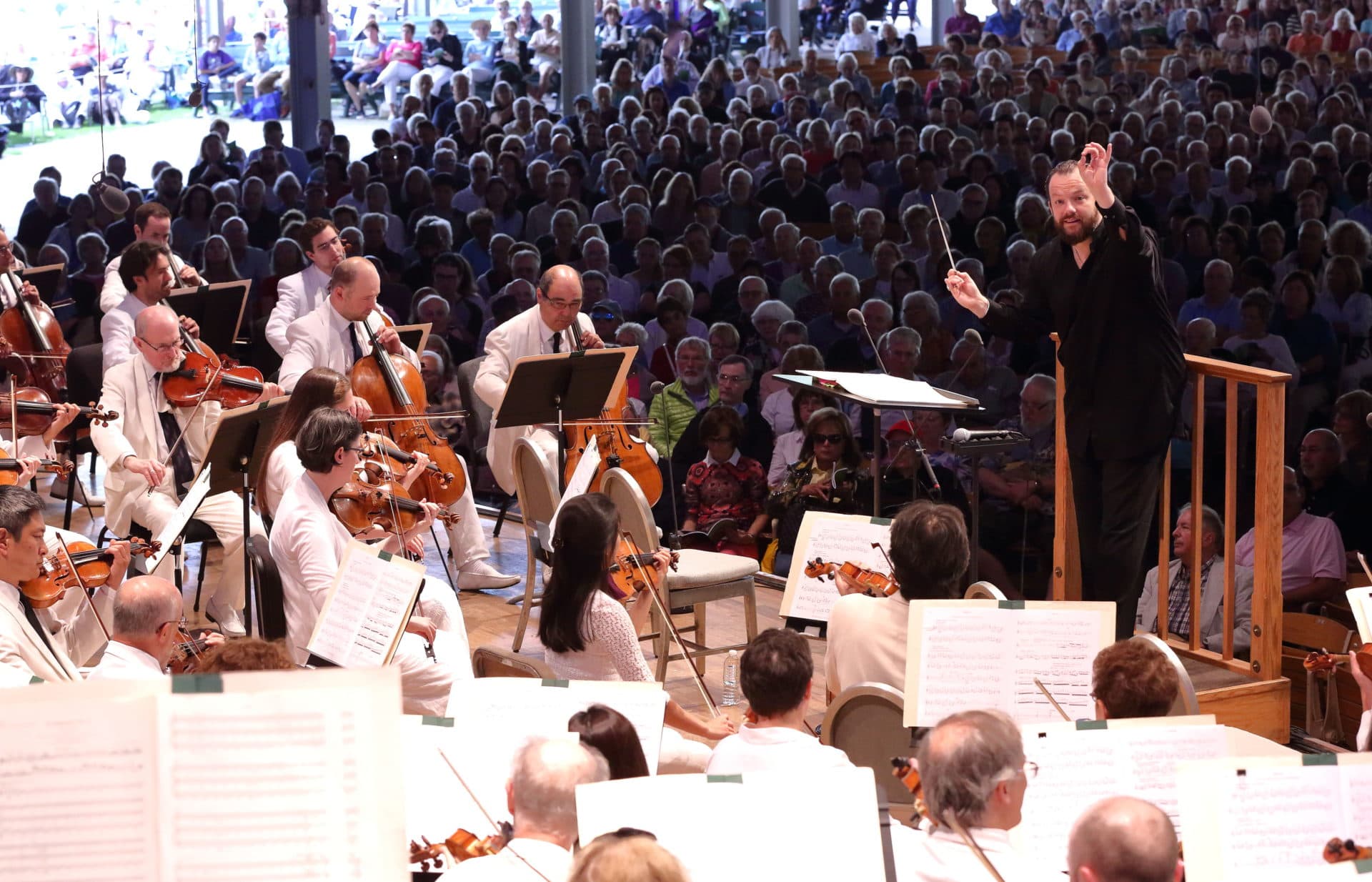 One of the high spots of the summer (July 16) is sure to be the one-night only concert version of Mozart's "Don Giovanni," with Nelsons conducting a young and commendably diverse American cast (including Nicole Cabell returning as Donna Elvira).
The annual Beethoven Ninth Symphony, which always closes the Tanglewood season (Aug. 28), will have a special guest conductor this year, BSO alum Michael Tilson Thomas, who has recently retired from his musical directorship of the San Francisco Symphony. The concert will begin with another composer dear to Tilson Thomas, Ives, a rare performance of his brief "Psalm 90."
The Tanglewood event I most anticipate every summer is the Festival of Contemporary Music (Aug. 5-8), its last year under the direction of the esteemed Tanglewood Music Center director Ellen Highstein. That FCM weekend will include a program of newly composed silent movie music by the FCM fellows, and the final event will be the outstanding British composer George Benjamin conducting the American premiere of his most recent opera, the scary "Lessons in Love and Violence," based on the tragic story of Edward II, his wife and his male lover.
And Ringo Starr and his All-Starr Band will be at Tanglewood Sept. 5. What more can one want from a summer festival?
---
Waltham and Great Barrington (also Hudson, New York) | June 23-July 23
For nearly three decades, the superlative violinist Daniel Stepner has directed this summer festival mainly but not exclusively devoted to early music. This year, it takes place at Brandeis University, both in Waltham and in Hudson, New York, and at two venues in Great Barrington. Each of the three upcoming concerts has something really hard to resist. Coming up soon is a program punningly called "The Devil's in the Tales," which features a devilish Scarlatti oratorio and Stravinsky's irresistible theater piece, "A Soldier's Tale" (which features a great part for solo violin). The guest singers are soprano Kristen Watson and tenor Frank Kelly (June 23-25). There's also a program of chamber music by both Clara and Robert Schumann (June 30-July 2). And a program called "Double Apotheosis," featuring music of Couperin, Corelli and Rebel (July 21-23). The one I'm most looking forward to (July 14-16) is an all-Handel program with the sublime Canadian soprano Dominique Labelle, who is heard all too rarely in this part of the world.
---
Great Barrington and Pittsfield (and Chatham, New York) | July 21-Aug. 26
If a concert version of "Don Giovanni" doesn't satisfy you, not far from Tanglewood, at the Mahaiwe Performing Arts Center in Great Barrington, the much-admired Berkshire Opera Festival is producing a fully staged version (Aug. 20, 23 and 26). The summer season begins with Jake Heggie's "Three Decembers," based on a play about Broadway and family secrets by Terrance McNally (at PS21, the Pavilion Theater, in Chatham, New York, July 21 and 23). And perhaps most intriguing of all is "High on the Ramparts," putting a rare spotlight on operatic music by Black composers (Aug. 10, at the Berkshire Museum in Pittsfield—free tickets, but reservations are required).
---
Rockport | Through July 10
By the time you read this, you've already missed some of the great programming at this high-end chamber music festival, at Rockport's lovely Shalin Liu Performance Center, with its spectacular view of Rockport Harbor. But I'll pick a few of the upcoming concerts that particularly strike my fancy and suggest that there probably isn't a single program that isn't worth the trip. Let's start with the beloved soprano Dawn Upshaw performing an intriguing program with the Brentano String Quartet with music dealing with the tragic story of Dido, the Queen of Carthage who is abandoned by Aeneas, the Prince of Troy and founder of the Roman Empire. The first half begins with early English music that leads up to Dido's famous lament from Purcell's opera "Dido and Aeneas," and the second half consists of a single piece called "Dido Reimagined" with music by composer Melinda Wagner to a libretto by Stephanie Fleischmann (July 2). Then there's the brilliant pianist Kirill Gerstein, in an inspired program beginning with Stravinsky's seldom performed Piano Sonata in F-sharp minor, followed by Schubert's great but lesser-known C-minor Sonata, and closing with Liszt's "Bénédiction de Dieu dans la Solitude" and his famously challenging Piano Sonata (July 7).
The superb Dover Quartet plays a program of Mozart and Ravel string quartets, with violinist and festival director Barry Shiffman joining them for Dvorak's "American" Quintet (July 9). And the festival comes to a lively close with trumpeter Jens Lindemann and pianist Stewart Goodyear in an evening devoted to a big band arrangement of Gershwin's "Rhapsody in Blue" and music by Duke Ellington, Oscar Peterson, and others (July 10).
---
Cotuit, Chatham, Wellfleet, Eastham and Dennis | Aug. 2-19
In various venues around the Cape, festival directors Jon Manasse (clarinet) and Jon Nakamatsu (piano) perform both by themselves and with others and also bring us some celebrated chamber ensembles, including the Ariel Quartet (Cotuit, Aug. 2), Verona Quartet (Chatham, Aug. 3), the Ying Quartet (by themselves, Cotuit, Aug. 9, and with pianist Brian Zeger, in the great Brahms Piano Quintet, Wellfleet, Aug. 12) and Borromeo Quartet (Dennis, Aug. 17). The beloved Borromeos play a quartet by Jamaican composer Eleanor Alberga (born in 1949 but new to me) and Beethoven's hair-raising seven-movement late Quartet in C-sharp minor.
By Lloyd Schwartz